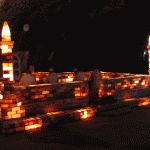 Children usually spend their summer holidays with cousins and relatives. Some enjoy their vacations on hill stations or even out of the country. But there are still few children who have not enjoyed this period yet. The reason could be the severity of summer, or busy schedules of their parents or they are still planning to go somewhere. Those who cannot spare many days for spending holidays can enjoy even a day out of home like Sunday. For people living around Islamabad, they can enjoy a day return trip to  Murree and near hill stations but Lahories cannot enjoy visiting such places in one day. At this moment they have a best option to enjoy the real beauty of nature inside the mountains and that is Khewra Salt Mines.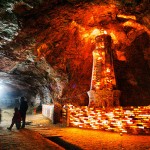 About 160 kilometers from Islamabad and 260 kilometers from Lahore, there isworld second largest salt mine at the small town of Khewra. It is said that When Alexandra visited South Asia with his army then he discovered the Khewra salt mines. The discovery of the mines, however, was not made by Alexander nor his "allies", but by his horse. It is stated that when Alexander's army stopped here for rest, the horses started licking the stones. One of his soldiers took notice of it and when he tasted the rock stone, it was salty thus leading to the discovery of the mines.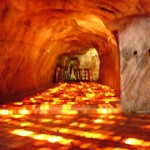 There are so many worth watching objects inside the khewra salt mines. With the help of salt bricks, there is a mosque, hospital, model of Minar-e-Pakistan and many such things are constructed. Fancy lights on the walkways and inside the ponds really catch the attention of visitors. Thousands of people visit to the place every year. Impressed by this, PMDC has opened a resort at khewra mines. So get ready and spend whole day at khewra Salt Mines with friends and family members.
http://www.youtube.com/watch?v=YBQfcdzbLgc