Mango, "King of Fruits" is one of the most popular and loved fruits worldwide.   The most popular commercial varieties – all different in colors and sizes, and each with a distinct flavor and taste – include Anwar Retol, Dasehri, Langra, Chaunsa, Sindhri, Saharni, Alphonso, Pairi, Fazli and Neelam.
The 3-day Mango Expo 2011 will be held in Hyderabad at Expo Center from June 23 to 25 under the auspices of Hyderabad Chamber of Commerce & Industry.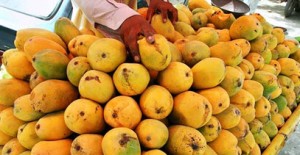 A four member-delegation of Hyderabad Chamber of Commerce & Industry Dr. M. Fareed Qasim, Saleem Arain, Zaheer Jan and Naeem Aslam visited Mirpurkhas Mango Exhibition and met with Sindh Agriculture Minister Syed Ali Nawaz Shah to seek his support.
The minister assured HCCI delegation of his full support. He also asked the Director General Agriculture Extension Hyderabad to provide full support to organizers of the Mango Expo 2011.