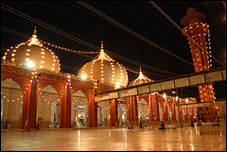 Shab-e-Meraj is one of the holy nights in which Muslims are asked to pray and ask for forgiveness from Almighty Allah. The Muslims every year on 27th of Rajab observe Shab-e-Meraj, the night when Holy Prophet Hazrat Muhammad (PBUH) embarked on a special journey to meet Allah Almighty.
Shab-e-Meraj is being observed on Wednesday night across the country with great respect. Special prayers were held in the mosques. Buildings, houses, streets and mosques were decorated whereas thousands of people lit candles in their homes.
After the Isha prayer, people went to different mosques to pray. Badshahi and Data Sahib Mosques in Lahore where as Faisal Mosque in Islamabad were packed with worshippers. Duas were offered for the progress of the country as well as for the prosperity of the Muslim Ummah. Mehfil of Naat and Hamd organized in all cities of Pakistan to celebrate this holy occasion.