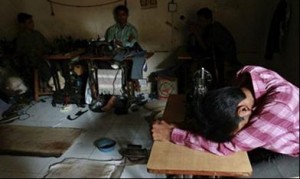 The duration of load shedding in the residential and commercial areas of the Karachi city had been temporarily increased by KESC in view of the peak demand exceeding 2550 Mega Watts (MW).
The temporary increase in load shedding hours was strictly for the period when the KESC was receiving low gas supply from Sui Southern Gas Company and normal load shedding plan will return as soon as gas supply increases, or if Pakistan State Oil agreed to extend KESC's credit limit to buy furnace oil.
Protests were staged in various areas. People burnt tyres on the roads, pelted stones on passing vehicles and damaged the public property. Citizens alleged that the KESC administration and CBA union were not considering the consequences faced by them in their fight of interests.
The posh areas of metropolis also witnessed long hours of load shedding along with voltage fluctuations that damaged their appliances.