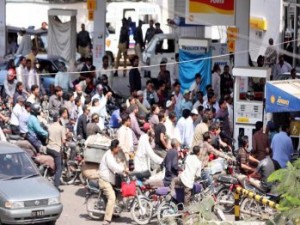 Due to annul shutdown of Attock Refinery (ARL), which is the key supplier of petrol, diesel and other fuels in the region, the supplies have been cut to different cities. With this shortage the Oil and Gas Regulatory Authority (Ogra) finally issued show cause notices to the oil companies on Tuesday asking them to resolve the issue and improve the stocks.
The oil companies have managed to maintain supplies to some selected places in Rawalpindi and the federal capital but vast majority of the pumps in northern Punjab and Khyber-Pakhtunkhwa almost ran dry due to limited or negligible supply.
Shortage of petrol continues haunting citizens, forcing them, especially motorcyclists to search fuel in the severe hot days of summer. It is now about two weeks since people have been facing shortage of petrol at filling stations. Motorists have to face immense problems, especially during two weekly holidays of CNG. Long queues of vehicles are seen at filling stations where some supply of petrol is available.