Syed Ali Zafar, Lawyer of Shahid Afridi told media that Afridi will not appear as summoned before a PCB disciplinary committee on June 8 to face charges of violating a code of conduct.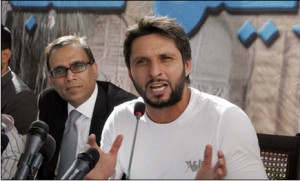 He said that "The process followed by the PCB does not conform with the law as even under Pakistan's constitution there is a right given to everyone to be heard before a case is decided,"
The PCB said Afridi violated the players' code of conduct in announcing his retirement and suspended his central contract and revoked all no-objection certificates (NOCs) that would have allowed him to play abroad.
Zafar said the PCB had taken strict steps without giving Afridi a chance to tell his side of the story. Afridi also disagreed with the process of the disciplinary action.
Afridi said "I have never cared about the captaincy. I have played under a number of players. A lot of other senior players also feel humiliated by treatment from the PCB but they can't stand and fight because of the central contract and many other things, but for me personal honour comes first".