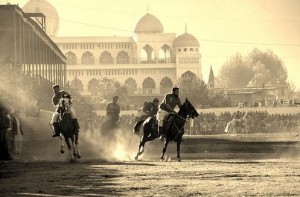 For the first time Pakistani polo players will play a match against the United States at Saratoga Polo Club at Saratoga Springs on July 17. Pakistan is a country with one of the highest polo ground in the world and the United States has some of the oldest polo clubs including Saratoga Springs.
E. Nisar Khan, managing partner at US-Pak Polo Club, has been actively engaged with Tourism Corporation of Khyber Pakhtunkhwa (TCKP) to organise the match. This cultural evening would be held for the first time to showcase the culture and history of Khyber Pakhtunkhwa as well as connection of polo to the region.
The US-Pak Polo Club has also planned to host a combined US-Pakistan fashion and fusion mix musical evening. Famous singers like Ismail and Junaid and other Pashto singers have been invited to perform. Traditional dance troupes from Khyber Pakhtunkhwa have also been invited to perform at Saratoga Springs.