Punjab Government allowed private and public schools to start summer camps during summer vacations.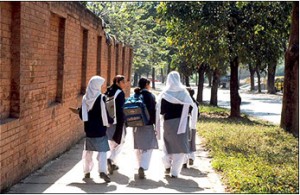 The provincial government issued a notification allowing private and government schools to hold compulsory summer camps from 7:30am to 10:30am for class 5th, 8th, 9th and 10th from June 1 to August 14.
But the parents had a point of view that the summer vacations are given to provide relief from hot weather of June and July. They said that summer camps enable private schools to charge extra fees and earn money. Some of the parents said that during summer vacations they plan to spend holidays with relatives but because of summer camp they have to change their plans. This is unfair to start summer camps for class 5th and 8th.
The teachers of government schools also expressed resentment over the decision, saying summer camps in government educational institutes for class 5th and 8th was unjustifiable.
On the other hand, private school owners said the decision to hold the summer camps was in the best interest of the students. "The students of class 5th, 8th, 9th and 10th have suffered a lot during the last few days as textbooks were not available in the market and classes started late," said Ibrar Ahmed Khan, the president of All Pakistan Private Schools Management Association, Rawalpindi.