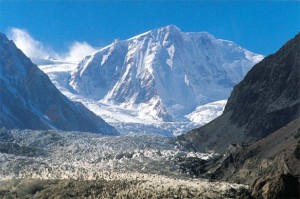 To measure snowfall, solar radiation intensity, humidity precipitation, wind speeds, wind directions and other weather conditions Pakistan Meteorological Department (PMD) has established the highest Glacier Monitoring Station in the country, at an elevation of 4500 meters above the sea level.
The station established on Passu Glacier in Hunza Basin to study weather conditions in the glacier environment. PMD started studying the Passu Glacier last year by establishing a Glacier Monitoring Station at an elevation of 3200 meters above sea level, through financial assistance of International Centre of Integrated Mountain Development (ICIMOD).
PMD took glacier monitoring initiative in 2006, and since then glaciers such as Hinarchie Galcier in Bagrot Valley, Baltoro and Biafo Glacier in Shigar Valley, Batura, Gulmit and Gulkin glaciers of Hunza Valley are thoroughly studied.
In continuation of such strives, Director General of PMD, Arif Mehmood has formed a team of young scientists under the leadership of Dr. Ghulam Rasul to install an Automatic Weather Station (AWS) in the 'accumulation zone' of the Passu Glacier. The team's members include Muhammad Atif Wazir, Furrukh Bashir, Adnan Shafiq Rana, Syed Kamaludin, Habibullah Barohi, Waqar Ali and Shahir Ali.