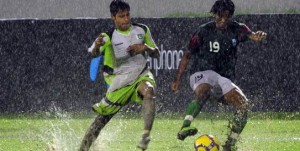 In the first leg of opening round of the FIFA World Cup 2014 on Wednesday held at the Bangabandhu National Stadium in Dhaka, Pakistan had to face miserable defeat. Bangladesh scored in the first minute and won the game with 3-0.
The game was played under heavy rainfall and the players of either side had to fight against heavy and slippery conditions. Pakistan received first blow in the opening minute of the game and pressure by Bangladesh kept on increasing.
Pakistani team will return to Pakistan on Thursday night and will play the second leg round in Lahore on 2 July. It seems difficult that the next round would be in favor of Pakistan as the Pakistani players will have to win the game by four goal margin and if Pakistan win by 3-0 then penalties would decide the winner.