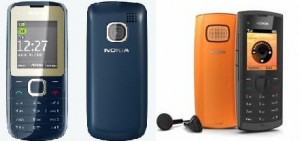 Nokia launched the first two of its Dual SIM phones – Nokia X1-01 and Nokia C2-00 in Pakistan. The dual SIM range from Nokia offers a variety of high-demand features at reasonable prices.
Nokia hopes that its Dual SIM range with competitive features would help the company maintain its leadership position in emerging markets like Pakistan. Nokia would also like to enable internet on its low-cost mobile phones such as these to help more people enjoy their first-internet experience on their mobile phone.
The Nokia X1-01 and Nokia C2-00 are high-quality budget phones that come with more memory, better battery life and streamlined SIM change option coupled with more entertainment features. The Nokia X1-01and Nokia C2-00 is now available in Pakistan in the approximate price range of Rs3100, Rs3400 and Rs5200, Rs5500, respectively.