Love Mein Gum is an upcoming Lollywood Urdu film, directed and produced by Reema Khan, that will star Moammar Rana, Reema Khan, Nabeel Khan and Araida in the lead roles and it will be seen on cinemas before Ramadan.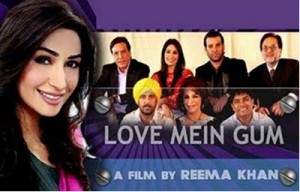 Reema claims that Love Mein Gum is the most expensive film to be made in Lollywood. The Post Production was all done in India by Avik Ali, who was also the editor of Hrithik Roshan's Kites, which was released in 2010.
Reema said in an interview that "I have not compromised on any aspect of the movie, from Music to clothes, and from sets to post production everything is done with open heart and no compromises were made, the best available gadgets were used for the movie production and post-production".