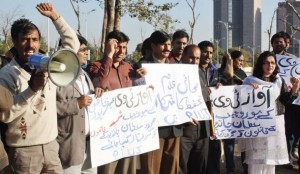 The journalistic cadre Wednesday staged a sit-in to protest the dreadful killing of Shehzad who was kidnapped on 27th and found dead on 31st May 2011.
The protestors demanded an independent inquiry commission under the supervision of a sitting judge of the Supreme Court. They appealed to Chief Justice of Pakistan Iftikhar Choudhry to take a suo moto notice of the incident. The sit-in was organised on the call of the Pakistan Federal Union of Journalists (PFUJ).
A number of political figures participated in the sit-in and assured their ostensible cooperation. Pakistan Muslim League N leader Mian Nawaz Sharif termed the Saleem Ahehza's killing the whole nation's murder and demanded the authorities that the perpetrators be exposed and brought to the book. Journalist groups from different parts of the country kept joining the sit-in throughout the day. Every time they brought a new spirit to the protest. The protest was also attended by eminent personalities from print and electronic media. Famous anchorpersons joined the sit-in and conducted live transmission from the spot.