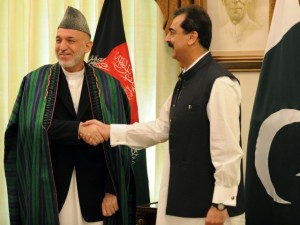 Hamid Karzai, a very first head of state who visit to Pakistan after Osama bin Laden case. Karzai arrived with a delegation of more than 50, is scheduled to head into talks with President Asif Ali Zardari, who will then host a banquet for him. This is Karzai's second visit to Pakistan in 10 months. He last visited Islamabad in September to show solidarity in the wake of devastating floods that killed over 1,000 people and rendered millions homeless.
On Saturday, he is due to hold talks with Prime Minister Yousuf Raza Gilani and a joint peace commission involving officials from both countries is also scheduled to meet, before Karzai gives a news conference at 1:15 pm
Hamid flew into Pakistan for talks likely to focus on stepping up efforts to broker peace with the Taliban. Pakistan can ask Karzai about his intentions and those of the United States as regards negotiating with the Taliban, and Afghanistan can seek reassurances from Pakistan that it will not hinder the process.