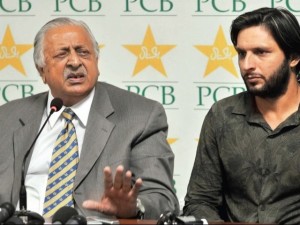 According to sources, former captain of Pakistan team Shahid Afridi met with chairman of Pakistan Cricket Board and made out of court settlement.
According to the sources, important government officials were also present in the meeting. Former skipper agreed to withdraw the case against the PCB and also to appear before the disciplinary committee of the board.
The PCB will issue the NOC for Afridi after he appears before the committee. After getting the required permission Afridi will be able to play for Hampshire County in a T20 tournament in England and Sri Lanka Premier League.