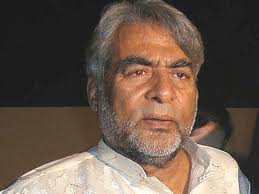 Jamil Fakhri, a great TV actor and stage artist, passed away on Thursday after prolong illness. Whole nation is sad on his death and missing their legends like Jamil Fakhri, Moeen Akhtar and many stage actors.
The leading actor was in state of shock since his son shot dead in US. Fakhri left behind a widow and three sons to mourn his death. His funeral prayers will be offered at his Ravi Road residence Friday morning.
Jamil Fakhri, who was a banker by profession, started his artistic career from a TV drama 'Thanda Bokhar'. But, he is mostly remembered for his extra-ordinary performance in one of the most popular TV series, 'Andhera Ujala', in which he appeared as Jaffar Hussain.
President Asif Ali Zardari and Prime Minister Yousaf Raza Gilani has also expressed grief and sorrow over the sad demise of Fakhri.