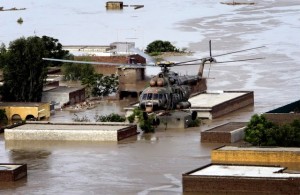 Monsoon has started and yesterday night had a first heavy rain which caused the reduction in severe hot. But if we look to the areas where the flood had created a huge destruction last year are still in danger. The Government of Punjab has taken few measures to control the situation after heavy rain in monsoon.
District Flood Relief Committee is formed and Additional collector Nadir Khan Chattha has been given added charge as district flood relief officer (DFRO). Lahore district is protected from flooding by the Shahdara and Sharqpur bunds on the right side and by Mehmood Booti on the left.
Fifty-eight "sensitive points" in the district have been identified. The main source of flood warnings will be the Irrigation Department and the police wireless setup. Wireless sets will be installed at Ravi Gauge Station and Ravi Siphon and they will relay information on discharge levels at Jassar, from where the water takes about 36 hours to reach Shahdara.
The Lahore Electricity Supply Company (LESCO), Pakistan Telecommunication Limited (PTCL), Solid Waste Management (SWM), Rescue 1122, the Water and Sanitation Agency (WASA), the Parks and Horticulture Authority, Civil Defence, town municipal administrations, and livestock and health officials have also made flood contingency plans.
The executive district officer (health) will plan for and organise emergency centres for medical care during floods in the area under his jurisdiction. He will arrange for vaccinations and inoculations and ensure that supplies of antibiotics, oral rehydration solution (ORS) packets and anti-venom serum are adequate.