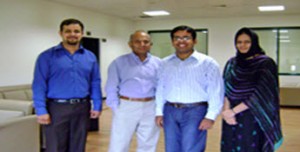 Two teams of Forman Christian College MBA students have won a reputed international honour by finishing first and second in the Globus Best-In-Strategy Invitational Championship where 139 teams from business schools all over the world were invited to compete on the basis of their performance within their schools.
All 139 teams were placed in 15 Industry groups and competed in a 15-year business simulation that mirrors competitive dynamics in the global digital camera industry. Student teams are scored on multiple financial and other dimensions as they make real time decisions on a number of complex business variables such as R and D, workforce compensation, production, outsourcing, product line performance, pricing, and finance in the simulated competitive space.
The team of Faisal Pervez, Syeda Ataat Zehra and Hassan Saqlain topped their industry, beating teams that included the formidable National University of Singapore among others. The team of Ali Imran, Sohaib ul Haq and Azhar Moazzam stood second in their industry. Remarkably, while the other competing universities have all used Glo-Bus for several years, the game was used for the very first time at FC College.